John Boyega successfully made it to the Star Wars: The Last Jedi world premiere despite sparking fears when his plane was grounded by snow.
The Londoner, 25, managed to walk the red carpet in Los Angeles on Saturday night after he tweeted that he was stuck in blizzard-hit Atlanta.
"It was crazy," Boyega, who plays Finn, replied when asked about his travels.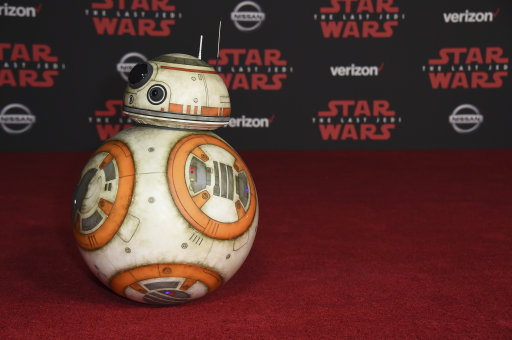 Ahead of the screening at the Shrine Auditorium, a spokeswoman for Boyega had said he was held up overnight in an airport but appeared to be "on schedule".
Daisy Ridley, Mark Hamill, Adam Driver and Andy Serkis were among the stars at the premiere of what is Carrie Fisher's last film as Princess Leia.
Serkis, who plays Snoke, praised the film for reflecting today's political climate, much like George Lucas's original trilogy which was said to comment on the Vietnam War.
"With all good science fiction, it touches the zeitgeist of what's going on in a small but political way… it really taps into the hatred and fear and love that is around at the moment and the way that manifests itself," Serkis said.
Domhnall Gleeson was excited by the prospect of seeing the film for the first time, unlike much of the cast who had already attended a sneak preview.
"I'm nervous to see it because I hope I'm OK in it, but Rian (Johnson, director) is an amazing film-maker, it would be a freakish occurrence if it ended up not being good so I'm just excited," the General Hux actor added.
Boyega hurried along the red carpet and into the screening after announcing on Twitter he had touched down minus his luggage.
He had joked online that Harrison Ford would fly him there, but Hamill shared some advice with him about the pilot who once crash-landed his vintage plane on a golf course.
"Only fly with Harrison on green-screen, son. #FatherlyAdvice," the Luke Skywalker actor wrote.
Star Wars: The Last Jedi will be released in UK cinemas on December 14.